Action in Mind is a registered charity and operates on a not for profit basis in Forth Valley.  We set up in Stirling in 1985 with the opening of our first service – a drop-in facility for people struggling with their mental health.

In common with other service providers, we are grant-aided by Stirling Council for specific services, such as from befriending, counselling, home support to rural outreach, and the Hub (Wellbeing and Skills Development Centre) and commissioned, through a spot-purchase arrangement, for the Home Support.  Other grants from Stirling Council enabled us to set up a postnatal depression group, the Ageing Well service for older people to reduce loneliness and isolation and the Time to Talk service for children and young people (see below).  

Through successful tender applications we have now been able to extend the geographical reach of the Home Support service to Clackmannanshire and Falkirk Council (supplementary approved supplier).

External funding from grant-making trust and partnership working has enabled us to develop new initiatives such as the Peer Mentoring for Mental Health Carers, the Age in Mind project to tackle mental health stigma and discrimination in later life and to set up the Pop-Up Internet Café and fund an IT worker to train clients as peer support volunteers, and to refurbish the facility rooms and kitchen for the benefit of clients, volunteers and staff.

Any monies we receive through donations are used to support a new or current service that may otherwise not exist, where there is a significant demand and need, and which may find funding difficult to secure.  To provide the right type of support needed, some donations will be used to pay sessional staff to deliver counselling sessions, run skills development groups or social activity sessions, or to provide training and materials for our clients and volunteers.

We pride ourselves on our volunteer management programme which actively seeks local people to volunteer with us.  Volunteers provide invaluable support to our clients, whether through befriending (young people and adults), as group support volunteers in the Hub or as office volunteers.  We also support mental health service users to participate in volunteer opportunities with us, and with other charities.  



Volunteers also benefit as we provide references subject to a minimum of 12 months satisfactory volunteering that supports applications for jobs or training courses.

All donations and fundraising are gratefully acknowledged and we invite everyone who contributes to become a mental health supporter and join our Collective AiM
---
HOW YOU CAN DONATE
---
Donations

Some people may prefer to make a regular donation or set up regular donations to Action in Mind. This is simple to do as you only need to click on DONATE and this will take you directly to our account.

Fundraising

We welcome hearing from people about their fundraising ideas and discussing how we can help to promote their activities through our website and social media outlets. Fundraising activities can be fun but what is also important is the opportunity this offers to let more people know why you are doing this and help break the stigma that all too often is associated with mental illness.  

Leaving a Legacy

Mental illness is one of the major health challenges in Scotland.  It is estimated that more than one in three people are affected by a mental health problem each year.  The most common illnesses are depression and anxiety.  

We are very humbled when a family member or friend gives a donation to Action in Mind following the sudden loss of a loved person to suicide or whose life had been affected by mental illness.  These acts of generosity at such times are what makes us at Action in Mind more determined and passionate about what we do to help people keep mentally healthy and well, and to support them at times of most need in the best way that we can. Every donation is hugely appreciated.

We are dependent on donations to enable us to support people at times of emotional crisis and leaving a gift to Action in Mind in your Will can help other people. You don't need to leave a large sum – a gift in your Will no matter how small can make a big different to our work.  Every gift from a Will that is received is free from inheritance tax. You have our assurance that your gift will be treated with the utmost respect and sensitivity.  

It is fairly simple and straightforward how to include a gift to Action in Mind in your Will.  All you need to do is to give your solicitor our details, as follows:
---



Action in Mind
19 Dean Crescent, Riverside
Stirling FK8 1UR

Registered Charity in Scotland:  SC016267.
---


To amend a Will, you can either make a new Will in all its entirety or you can make a codicil which will amend a specific portion of your existing Will.  A codicil is a document that amends rather than replaces an existing will.  It must be signed and witnessed in the same way as your original Will.   It is recommended that you contact a solicitor if you wish to draw up a codicil.

If you wish to discuss leaving a legacy for Action in Mind we can arrange to meet with you during office hours, Monday – Friday on 01786 451203 or at any other suitable time for yourself.

EasyFundraising

Action in Mind is registered with EasyFundraising which means that every time you shop with any of the thousands of retailers registered to this site you can make a free donation to us.  All you have to do is set up a link, as follows:  https://www.easyfundraising.org.uk/causes/actioninmind/

Local business and the education sector

We are grateful for approaches from local businesses, whether small independent companies or large corporate bodies who express an interest in mental health.  We have benefitted from employee volunteering and nominations as Charity of the Year with M&S Stirling, for example, where we could fundraise from the shop floor while also letting customers and staff know more about our charity and what we do, and about mental health and wellbeing in general.  

More recently, Stirling Council's Kilted Kangaroo has run two fundraising events for us.

We were nominated as Charity of the Year by Forth Valley Student Association and beneficiaries of Christmas appeals, two years running by University of Stirling's Student Air3 Radio.  

Sponsorship

You can raise money through sponsorship too.  If you are a UK taxpayer Action in Mind will receive gift aid on your donation. All you need to do is complete the gift aid form.  

Many of our fundraisers want to undertake personal challenges of their own – for example, a cycle run from Land's End to John O'Groats or a five mile run from the Battle of Bannockburn to the Wallace Monument wearing a 15kg vest (Paul Jamieson, Action in Mind Trustee).

Whatever the activity – you can set up your own fundraising page for Action in Mind and we can help with promotional information, photos and text.

TextGiving

You can also donate to us via text. To do so, text AIM19S to 70085 to donate £5.

Your Time

There is nothing more precious than anyone's time.  We welcome people to join our volunteer teams whose contribution makes an enormous difference to our service user's lives, their families and carers.  For more information about volunteering opportunities, please go to Home/Volunteering and Work Experience.


---
OUR FUNDRAISING GUARANTEE TO YOU
---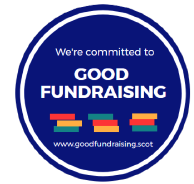 Fundraising is the life blood of many Scottish charities and we need to raise funds from voluntary sources. We could not fulfil our charitable mission without the support of generous, thoughtful and committed donors. We value the support of donors and understand the need to balance our duties to beneficiaries, with our duties to donors.

That's why we make this commitment to you.

We will comply with the law as it applies to charities and fundraising and we commit that we will guarantee to adhere to best practice as outlined in the Fundraising Code of Practice.

We will monitor fundraisers, volunteers and third parties working with us to raise funds, ensuring that they also comply with this Code of Practice.

We guarantee to operate in line with the values of the Code; to be Legal, Open, Honest and Respectful in all our fundraising. To promote and underpin these values, we commit to the following standards:


We will be clear about who we are and what we do
We will give a clear explanation of how you can make a gift and change or stop a regular donation
If you do not want to give or wish to cease giving, we will respect your decision
We will respect your rights and privacy
We have a procedure for dealing with people in vulnerable circumstances and it will be published on our website or will otherwise be available on request
We will hold your data securely
We will communicate with you in accordance with your selected preferences.

If you feel we have not adhered to these standards or think we could do better please contact us on 01786 451203 and/or email at info@actioninmind.org.uk and we will deal with your complaint quickly and thoroughly.

We commit to ensuring our complaints process is clear and easily accessible and we will provide clear and evidence-based reasons for our decisions on complaints.

However, should you be dissatisfied with our response, you will be able to take this further by contacting the Scottish Fundraising Standards Panel: www.goodfundraising.scot